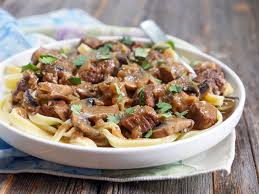 The commonly accepted history of Beef Stroganoff is that a French chef who worked for a wealthy St. Petersburg family created the dish for a cooking contest in 1891. Following the Russian custom of the day, he named the prize-winning dish for his employer, Count Pavel Alexandrovich Stroganov. A convincing detail sometimes offered is that the thin slices of meat called for were to accommodate the elderly Count's failing teeth.
Ingredients
350g Fillet Steak cut into strips
2 tbsp. white flour
1 tbsp. olive oil
1 large onion, sliced
8 button mushrooms sliced
2 tbsp. worcestershire sauce
1 tsp. lemon juice
1 cup low fat plain yoghurt
1 tsp. black pepper
¼ tsp. salt
2 tbsp. fresh parsley
1 tsp. dijon mustard
½ to ¾  tsp. paprika
2 tbsp. tomato puree
2 tbsp. brandy or cognac
2 cups steamed rice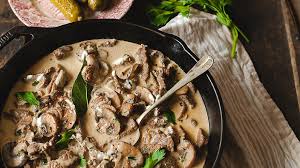 Method
Place the flour and beef in a large container with lid or plastic bag and shake until all the beef is coated.
In a large non stick frying pan, use ½ of the oil and cook on low heat the onions with paprika until the onions are soft, about 5 minutes. Add the mushrooms and cook gently for another 3 minutes. Remove from frying pan onto plate.
On high heat, use the rest of the oil in the frying pan and cook the beef strips in batches and seasoning with salt and pepper as you go. Cook the beef for only 1 minute, (you just want to brown the meat). You will need to remove each batch onto a plate until all cooked.
Once all the meat is cooked place all the meat and juices back into the pan, return the onions and mushrooms, add Worcestershire Sauce, brandy/cognac stirring.
Turn down the heat to low simmer, add the yoghurt and tomato puree and Dijon Mustard gently stirring in the lemon juice and parsley.