This Korean kimchi recipe shows you everything you need to know about how to make traditional cabbage kimchi. With this small batch recipe, you'll find it not that difficult to make good authentic kimchi at home.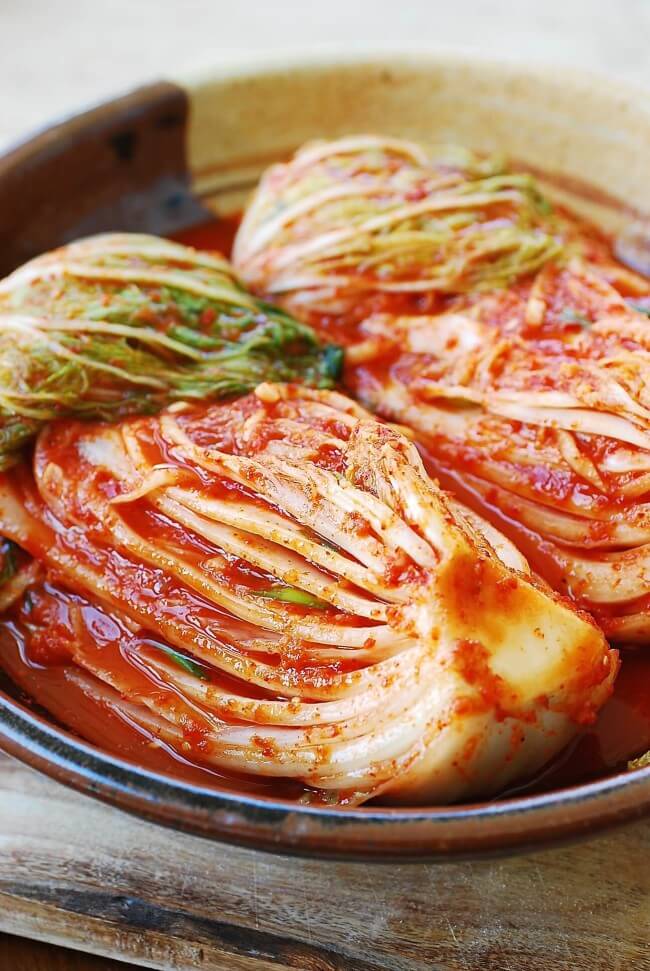 Kimchi is a collective term for vegetable dishes that have been salted, seasoned, and fermented. Over the last decade or so, Korean kimchi has gained a global recognition as a healthy probiotic food. Kimchi is a good source of useful lactic acid bacteria, has excellent anti-oxidation and anti-cancer effects, and helps prevent aging.
Buying napa cabbages
It's best to use a medium to large cabbage that weighs around 5 to 5-1/2 pounds with some light green outer leaves. When cut, a good cabbage has a nicely straight white part that's not too thick as well as bright yellow inner leaves.
Salt for making kimchi
Korean coarse sea salt is the best to salt the vegetables to make kimchi. It's natural salt with a coarse texture that's minimally processed. Commonly referred to as gulgeun-sogeum, meaning coarse or thick salt, this salt tastes good without bitterness, so it helps develop flavors in fermented foods. If Korean sea salt not available, you can replace it with normal salt to salt cabbages. Be sure to use less (about 1/4 less than the amount called for in the recipe) if using fine salt.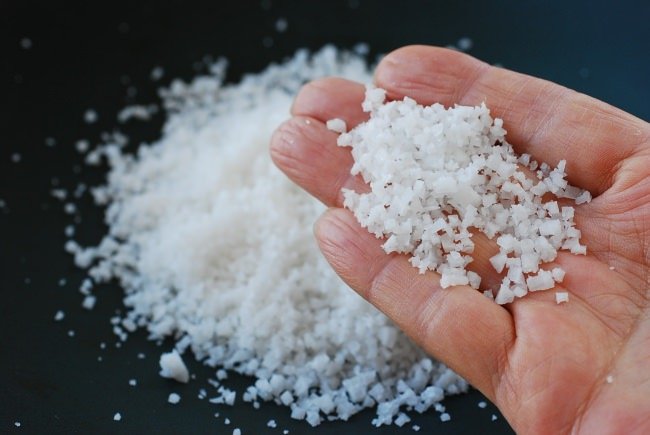 Kimchi seasonings
The taste of kimchi varies widely, depending on the quality, type and ratio of the seasoning ingredients. I find myself making it differently each time. In addition to gochugaru (Korean red chili pepper flakes), garlic and ginger, kimchi recipes typically call for various jeotgal (salted seafood) for the distinct pungency and depth of flavors and to aid the fermentation process. Saeujeot (salted shrimp) and myulchiaekjeot (fish sauce made with anchovies) are the most common ones.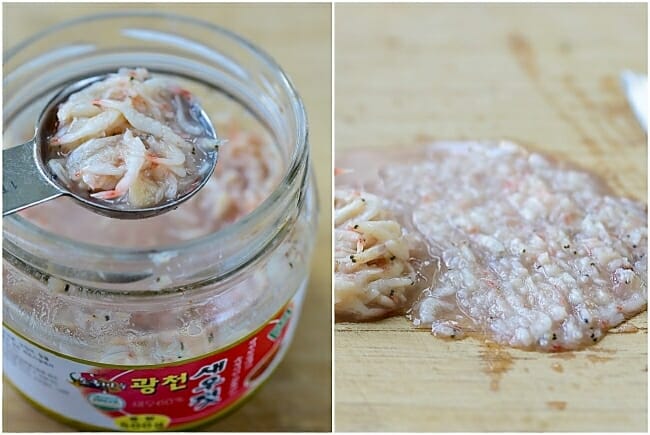 Making kimchi usually starts with salting the main vegetable. You need to cut the whole cabbage in half lengthwise, and then into quarters. If you're using 2 small cabbages, cutting in half should be enough.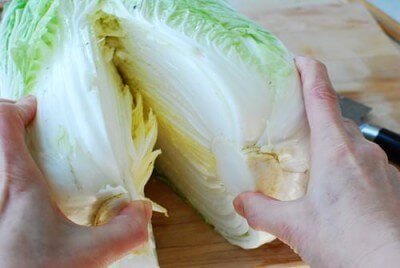 You then need to thoroughly bathe each cabbage half/quarter in the salt water one at a time. Using the other half cup of salt, generously sprinkle salt over the thick white part of each leaf. This process makes sure the white parts get evenly salted,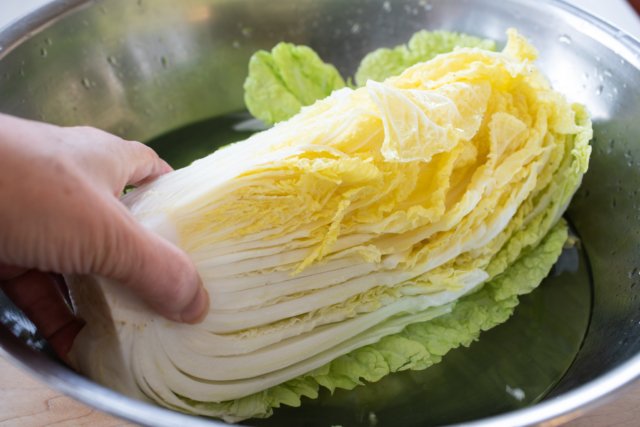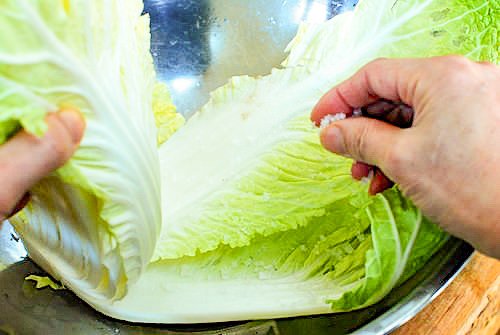 Meanwhile, make a kimchi paste by mixing all the seasoning ingredients, and then cut the radish and carrots into thin matchsticks and mix well with the paste. The rest is easy, rub a little bit of the radish mix over each cabbage leaf, mainly the white part.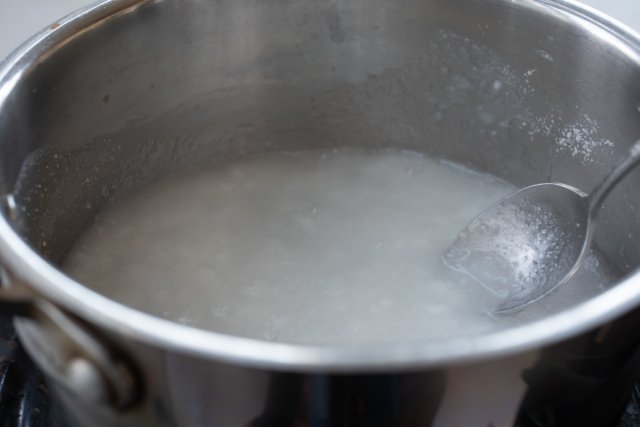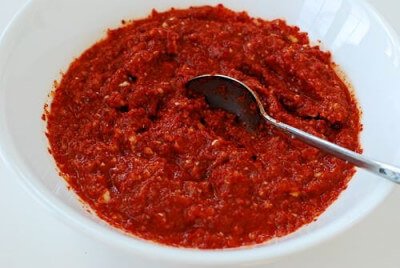 Although you can start eating your kimchi any time, it needs about two weeks in the fridge to fully develop its flavors. Your kimchi will continue to age in your refrigerator and will be delicious for a couple of months, when the healthy bacteria count is the highest. The kimchi will last much longer than that. It will turn very sour over time, and sour kimchi can be used in many delicious dishes!
Ingredients
Makes about 8 pounds (3.6 kg) of Kimchi
For salting cabbage:
For making porridge:
Vegetables:
Seasonings and spices:
Directions
Prepare and salt the cabbage:
If the cabbage cores stick out too much, trim them off.
To split a cabbage in half without shredding the densely packed leaves inside, first cut a short slit in the base of the cabbage, enough to get a grip on either half, and then gently pull the halves apart so the cabbage splits open.
Cut a slit through the core of each half, 2 inches above the stem. You want the cabbage leaves to be loose but still attached to the core.
Dunk the halves in a large basin of water to get them wet. Sprinkle the salt between the leaves by lifting up every leaf and getting salt in there. Use more salt closer to the stems, where the leaves are thicker.
Let the cabbages rest for 2 hours. Turn over every 30 minutes, so they get well salted. From time to time you can ladle some of the salty water from the bottom of the basin over top of the cabbages if you want to.
After 2 hours, wash the cabbage halves a few times under cold running water. Giving them a good washing, to remove the salt and any dirt. As you wash, split the halves into quarters along the slits you cut into earlier. Cut off the cores, and put them in a strainer over a basin so they can drain well.
While the cabbage is salting for 2 hours, and in between the times you're turning it over, you can make the porridge:
Combine the water and the sweet rice flour in a small pot. Mix well with a wooden spoon and let it cook over medium heat for about 10 minutes until it starts to bubble. Add the sugar and cook 1 more minute, stirring. Remove from the heat and let it cool off completely.
Pour cooled porridge into a large mixing bowl. Add garlic, ginger, onion, fish sauce, fermented salted shrimp, and hot pepper flakes. Mix well with the wooden spoon until the mixture turns into a thin paste.
Make kimchi:
Spread some kimchi paste on each cabbage leaf. When every leaf in a quarter is covered with paste, wrap it around itself into a small packet, and put into your jar, plastic container, or onggi.
Eat right away, or let it sit for a few days to ferment.
On fermentation:
The kimchi will start fermenting a day or two at room temperature, depending on the temperature and humidity of your room. The warmer and more humid it is, the faster the kimchi will ferment. Once it starts to ferment it will smell and taste sour, and pressing on the top of the kimchi with a spoon will release bubbles from beneath.
Once it starts to fermented, store in the refrigerator to use as needed. This slows down the fermentation process, which will make the kimchi more and more sour as time goes on.